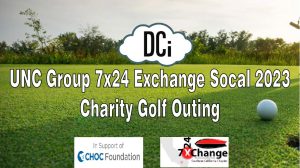 As part of its social activities, DCi is taking part in the upcoming UNC Group 7×24 Exchange SoCal 2023 Charity Golf Outing. The event will be in support of the CHOC Foundation (The Children's Health Of Orange County).
The event is taking place on the 27th of March 2023 Tijeras Creek golf club, creating the perfect opportunity for DCi and other industry leaders to engage with each other while supporting a worthy cause, and what better cause than providing excellent healthcare for children in need?
7×24 Exchange is a non-profit organization that provides a platform for DCi and other information infrastructure professionals to connect and share knowledge, thereby driving innovation and shaping the digital economy's future. A platform like this can greatly benefit philanthropic foundations by increasing awareness of their causes and expanding the reach of their operations.
CHOC's team of pediatric specialists has the expertise to diagnose and treat a variety of illnesses and conditions specific to children, ensuring that they receive the best possible care. This is particularly important for children and families in need living in the southern California area.
CHOC's noble cause makes DCi even more proud to participate and contribute to this particular event and similar ones in the future.